Shifting traditional face-to-face consultations towards a digital 'self-service' portal.
Shifting traditional face-to-face consultations towards digital 'self service' portals.
|

THE PRODUCT
MyWesleyan
Most policyholders are professionals for whom 9-5 call centres and a series of FAQ are insufficient. They need advice, policy management and interaction with financial advisors in a secure and auditable environment 24 hours, 7 days a week.

Prior to this project all financial consultations had to be conducted via face-to-face meetings between the client and financial advisor, which was costly in terms of travel and time. Many consultations were getting cancelled at short notice adding to non-productive time for financial consultants and a delay in providing cover for clients.

Wesleyan had a vision of a comprehensive portal that offered a single view of a client's policies and investments. With out-of-hours support – to ensure customers could manage their affairs at their own convenience – the website would remove the requirement for frequent time-sapping face-to-face consultations and their associated expense.After a difficult, expensive, and fruitless experience with a large agency on the portal design and build, Wesleyan decided to go back to the drawing board. They wanted a strategic technical partner that could take responsibility for the overall solution, coordinate the systems architecture and integration across several applications and multiple third parties, then collaborate and co-design with a front-end digital agency to deliver an innovative and customer-led product that would enhance their profile and grow their market share.

Wesleyan approached GW and asked for our help in creating a business layer 'backbone' that sat on top of existing data and applications to help deliver an outstanding customer-focused portal but would also be the foundation for future digital initiatives.

Company profile
Wesleyan is a mutual society that offers a range of financial products and is authorised and regulated by the Financial services Authority.

Services
Experience Design, App Design, Microsoft CRM Integration

Technology
Oracle, Azure Cloud.
|

THE CHALLENGE
Collating data from legacy systems
The key challenge that needed to be overcome when developing this platform was the aggregation of legacy data from many disparate legacy systems and "off-the-shelf" third-party services that were written in a variety of technologies. Prior to GWs involvement, the systems at Wesleyan Insurance were completely independent with little or no data being shared between them.

Developing in a diverse tech stack – the front-end was to built in Microsoft based technologies whilst the back-end was to be Java based, resulted in numerous incompatibilities which had to be resolved, some critical, such as message encryption.

Technical challenges involved creating a message framework to link these systems together, aggregating data and supporting a sophisticated online quoting engine. This all had to be achieved within the bounds of the investment already made within the corporate IT estate.

The customer portal had been designed by the digital agency with a very "chatty" style of interaction, making frequent calls to the back-end systems to obtain small snippets of data as and when they were needed. The high frequency of calls to the API was compounded by the legacy design of the back-end systems' business logic - a hierarchy of hundreds of fine-grained procedures.

The existing Document Management System (DMS) stored electronic copies of all Wesleyan's inbound correspondence and the majority of its outbound mail, it was crucial to the proposed user experience. Unfortunately, it had outgrown the limits of its technology and it was now proving impossible to provide acceptable levels of performance or even to get a response at all most of the time.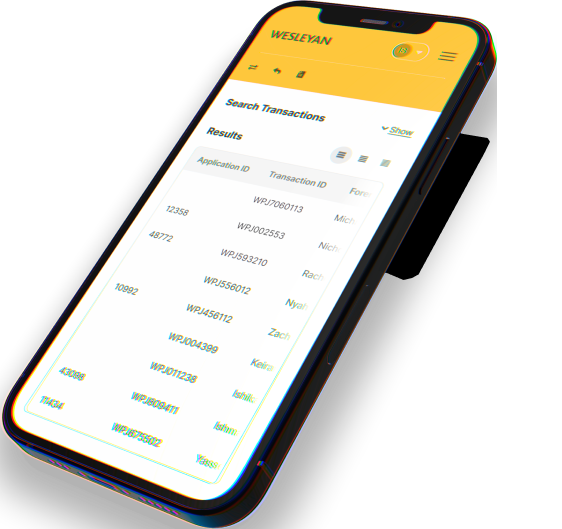 "I just wanted to pass on my sincere thanks to your GW Team for the monumental support that we were given."
Tony Evans
Senior IT Development Manager @ Wesleyan
|

OUR APPROACH
Streamlining, managing and pro-actively administering policies
From a technical aspect the solution needed to bring together several new and legacy technologies to provide access for policy holders to any combination of existing policy details, new policy quotations alongside access to a full repository of sales and supporting policy documentation.

With wireframes provided by the incumbent digital agency, Griffiths Waite undertook the detailed technical design, collaborating with Wesleyan's internal IT department and the front-end agency.

A lot of internal data had never been exposed to the public and therefore wasn't customer-friendly, requiring a staging area to be implemented where data could be sifted and cleansed before going on to the portal to be viewed by customers.

There were significant technical complexities in moving data between systems. To ensure security of this sensitive financial data, we needed to build in protection from the data tier up. The framework provided a highly secure communications channel between a customer and their financial advisor to chat and send documents securely.

Creating an interactive portal meant making customer policy documents – usually large, rich PDFs – immediately available. We developed a solution for real-time streaming of large data rich media files, creating a document policy system that visualised customers' most relevant data in an easy to read report.
The portal would integrate with the following systems:
Enterprise Reporting Solution
Open Book Policy Administration
Enterprise Reporting Solution
Tablet Point of Sale Application
Master Customer Data Solutions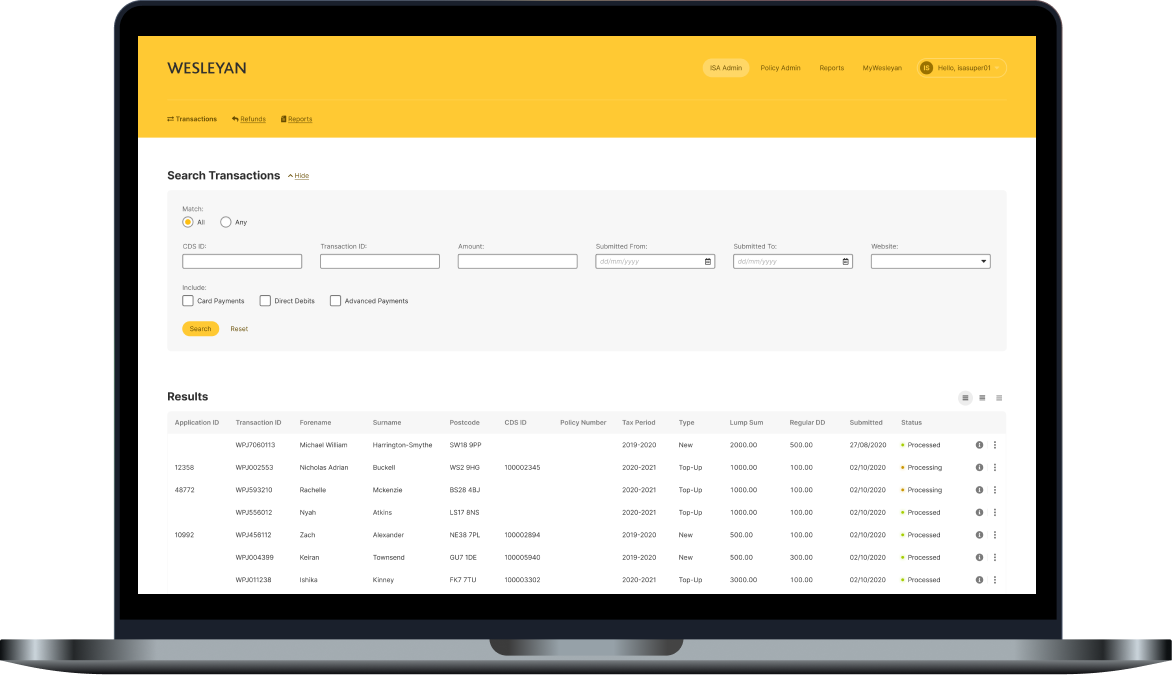 |

THE IMPACT
Customer Proposition Programme
Delivered on time, on budget and to ambitious project specifications, the project has been a critical success, not only delighting the business stakeholders but also driving an immediate 13% uptake in registrations and providing the foundation for Wesleyan's future multi-year IT programme and business growth plans.

Since the soft launch to 10,000 initial users, the platform has successfully grown to over 100,000 registered users with additional functionality, including selling ISA policies, integration with third party credit checking facilities and online medical questionnaire and more – all built on the framework Griffiths Waite delivered.

Policy holders were assured they are were accessing the relevant and latest copies of product datasheets, performance figures and financials projections all within a secure framework.

Following the success of the Portal Wesleyan set new growth targets with a change of focus to broaden its target customer base which was to be delivered under the Customer Proposition Programme (CPP), commissioned to further enhance the customer experience of Wesleyan's target customer base.CPP aimed to create a seamless, integrated customer journey offering options for both advised and non-advised sales, to sell and manage financial products such as investments (bonds, ISAs), pensions/annuities and insurance (income protection), synchronising relevant client data to financial consultants via an offline tablet prior to a home visit.

The business layer 'backbone' that we had developed for the original Portal was now extended to include the new bespoke Point-of-Sale tablet application and Microsoft Dynamics CRM running on the Azure cloud platform.

The solution was a proactive step in providing higher levels of customer service and product awareness. By enabling Wesleyan's clients to review offered products and services in the context of their own financial planning and goal settings, product sales increased, with shorter lead times which required less face-to-face visits, reducing cost to serve.
"Griffiths Waite had a massive impact on our company, they completely changed the way we worked. We trusted everything they did.

I am very excited by the challenge that lies ahead. I'm confident that we can develop and deliver an online strategy that will be market-leading and strongly appeal to Wesleyan's core customers. Busy professional people who want to carry out their finance business online at a time that suits them."
David Catterall
Head of Online Business Development
---
Want to find out more?
Chat to Mark:
mark.s@griffiths-waite.co.uk
+44 (0)121 643 4300