Innovating one of Europe's biggest e-commerce systems
As the largest second hand car dealership in Europe and with the second largest car fleet in the world, Motability's decaying legacy systems for remarketing their cars badly needed innovating.
|

THE PRODUCT
Motability e-Commerce Platform
Motability Operations had a heritage e-commerce system for remarketing its used cars that relied on batch jobs and overnight processing. They wanted to introduce a new, world class e-commerce system that not only helped them to market to new B2B and B2C audiences, but also supported an on-going refresh of strategic IT systems that could adapt as the business model changed.

After a previous less than successful integration project at the hands of an offshore company Motability Operations had been introduced to GW and requested our help in getting it back on track. Our team of trouble-shooters managed to successfully turn the project around in a few months. Following this engagement Motability approached GW to be their strategic integration partner on all future programmes, starting with the e-commerce initiative.

This integration layer for e-commerce had to support planned business growth and seasonal peaks in sales all the while enhancing sales performance. The new platform had to improve publishing times, visibility, real-time reporting, and monitoring throughout the car remarketing cycle.

Company profile
A not-for-profit company that enables disabled people in the UK to lease an adapted vehicle to support them.

Services
Strategy, Architecture, Integration, Elasticpath E-Commerce, Product Development.

Technology
Oracle
A high-profile, strategic, and complex integration project
1 million
Transactions per day
From a technical standpoint, this ambitious new system had to:


Implement a new system to handle the sale of 145,000 used cars every year through a network of 4,500 dealers.
Put in place an integration layer that is both stable and scalable to handle growth in the business and support peaks in sales during the twice-yearly launch of new number plates.
Handle large data volumes, peaking at 1 million transactions per day
Support a projected 50% increase in stock levels over the next 3 years.
Move from historical and manual daily sales reports to real-time information and reporting, to enhances sales performance and improve dealer experience.
Raise visibility of the cars as they move through the remarketing process and provide real-time reporting with every vehicle tracked individually.
Improve information about sales performance, stock levels, and stock pipeline of used cars which amount to 12% of the used car market in the U.K.
Enhance the dealer experience with improved publishing times and better access to the Web site.

"On site at Motability Operations' offices in Southwark, we worked side-by-side with both Motability IT personnel, and consultants from Canadian CRM supplier & partner, Elastic Path, to integrate Elastic Path CRM with legacy Oracle and SQL Server applications, using Oracle SOA."
Jeremy Duggan
Senior Consultant
Thousands of users, hundreds of thousands of cars, millions of transactions – all in one system
Motability's business team were nervous about ambitious integration projects having been let down by the "offshore" model in the past, consequently, we made a concerted effort to work closely with both the business and IT teams at Motability, sharing our expertise to help build a service-oriented integration strategy that would underpin their next generation of customer facing applications. 

The key challenges of the project were architectural rather than technical. This involved overhauling the process architecture, designing a solution that worked within constraints of the existing legacy estate while future-proofing it and restructuring current integrations as services.

At every step of the way we collaborated with Motability's global delivery partners in the UK, India and Canada, particularly marrying our enterprise integration expertise with ElasticPath's e-commerce specialism.

With several delivery partners, a complex estate, aggressive timescales and an ambitious vision, we needed to work in an agile fashion from the offset, with several business and test collaborations throughout.

The project team used an agile methodology working in three week project cycles known as sprints. At the end of each sprint, the team provided feedback to the rest of the business, which ensured full involvement of people who would be using the new system.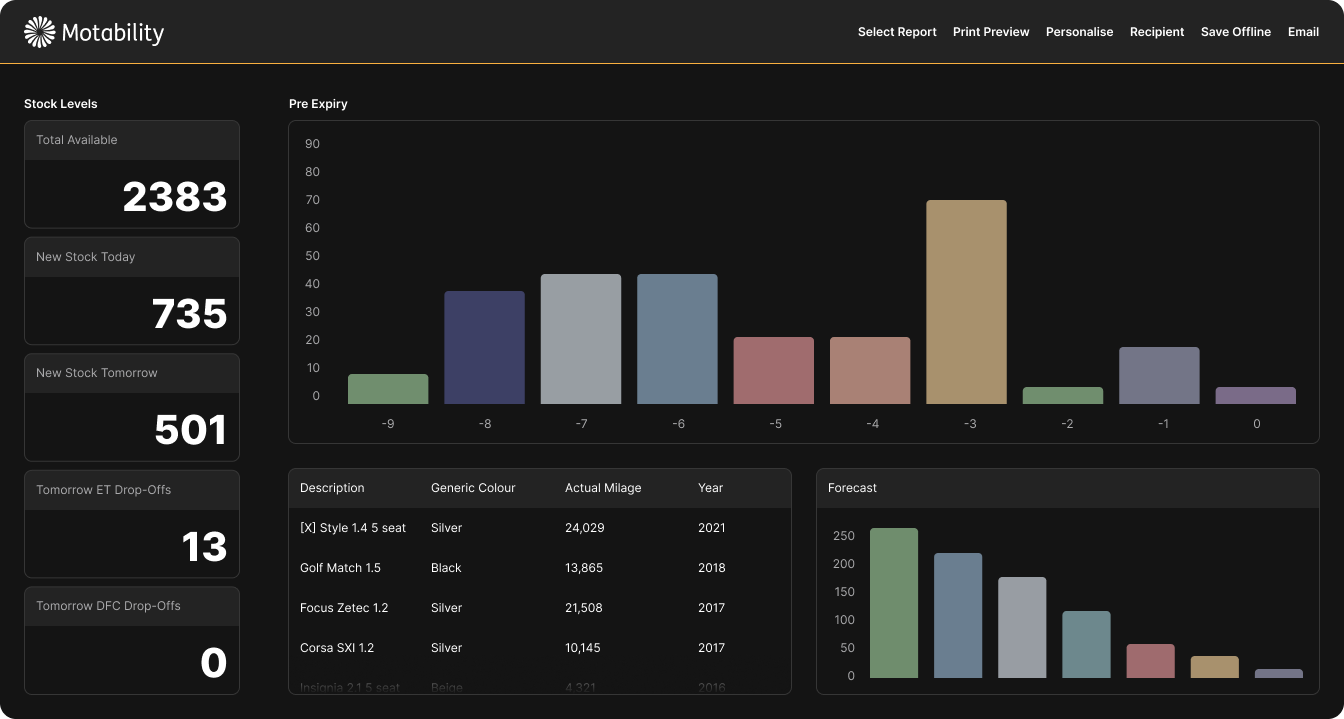 A record-breaking, award-winning solution
1 million
increase in stock levels and increased margins.
145,000
dealers accessing the system
4,500
record-breaking car sales on launch day
From day one of going live, the solution had immediate business impact across all areas of the business. By improving visibility into stock levels, sales performance, future pipeline, market behaviour and transforming the dealer and customer experience, the solution facilitated a record day of car sales on the first day of going live and was responsible for a 5% increase in online sales.

This 24/7 responsive e-commerce system not only improved the entire remarketing cycle but integrated directly into a more flexible business process that could adapt to stock levels, market performance and site traffic changes. It comfortably handles peaks in transactions around biannual number plate change with 1,000 service interactions per hour rising to 4,000 per hour at peak times during the plate change months.

The streamlining all of the critical remarketing processes helped call centre staff run targeted promotions, improved response times for dealers and helped customers make decisions quicker.

This project was the most successful IT project Motability had ever had. A fact recognised on two separate occasions as GW won a IT vendor Global Innovation of the Year Award and Motability's own Business Partner of the Year Award.
"We have a very good relationship with Griffiths Waite. It is a fantastic partner. The implementation went very smoothly and we're now working with Griffiths Waite on other projects."
Stephen Curry
Solution Architect @ Motability
---
Want to find out more?
Chat to Mark:
mark@griffiths-waite.co.uk
+44 (0)121 643 4300