A sophisticated credit insurance and policy management tool
After the success of the Insights Portal that we built for Atradius, they embarked on a 2-year project to improve their customer transactional tools.
|

THE PRODUCT
Atrium
Atradius are a world leader in credit insurance and debt collection, with a reputation built on excellent customer service. They continuously invest in the latest market intelligence and tools to support their customers' businesses.

We've been working with Atradius for the last 7 years as their Innovation Partner for customer facing solutions. In that time, we have developed and launched four global digital products.

Company profile
Atradius provides trade credit insurance and collections services worldwide through a presence in more than 50 countries around the globe.

Services
Product Development, Architecture, Dev Ops, UX, Customer Portal

Technology
Oracle Jet
|

THE CHALLENGE
A long overdue upgrade
Customers had been using the existing Serv@Net portal for 15 years and it was a great success, however, it had reached the end of its development lifecycle.

The system needed to provide the users with visibility of their policies and enable them to search for buyers around the world. Along with this, it needed to support multiple languages, be tailored depending on the login credentials, integrate with existing applications and allow for extremely high volumes of documents to be processed, including credit limits and checks.
3.5 million
Page view / month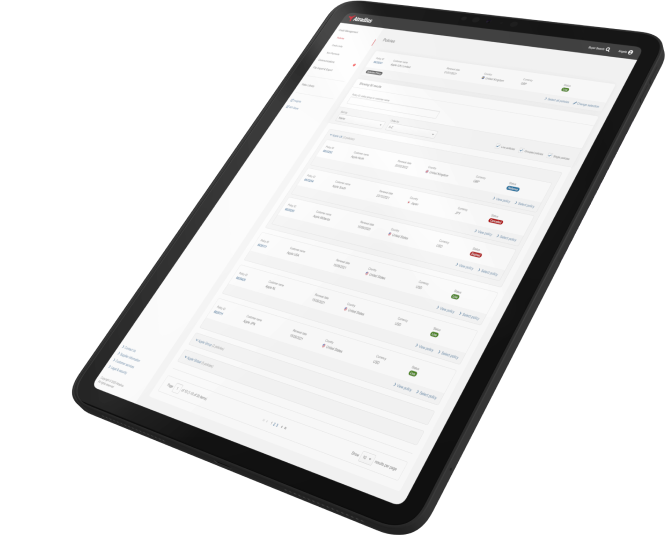 "The starting point was really to put the customer at the centre. We wanted to understand the customer needs to improve interaction with Atradius, but also improve interaction with their customers."
Mark Simpson
Engineering Director
|

OUR APPROACH
A personalised experience
The project followed a research and design process before proceeding into the construction phase. Considering insights from the discovery phase and merging them with Atradius core values,we defined 4 main design principles:
01.
Personalised Experience
03.
Build stronger relationships
04.
Relevant end-to-end experiences
The core 10-week development cycle was divided into fortnightly sprints with weekly demos and check-ins across all teams. Working to overcome technical and business procedural challenges became an exciting adventure.

As the MVP had to be released within very short timescales, we had to prevent any maintenance burdens by completing our integration work without extensive changes to the existing systems.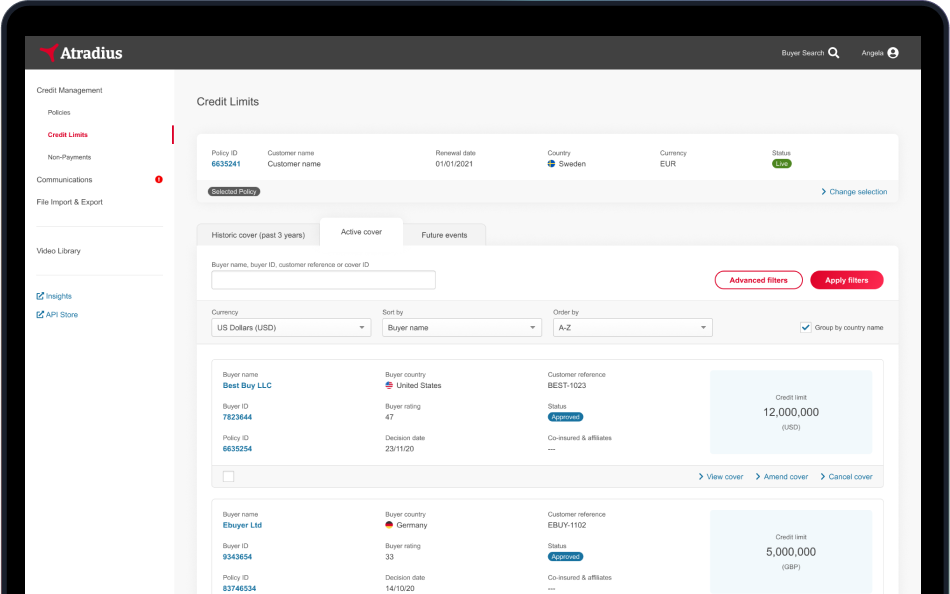 1 / 4
|

THE SOLUTION
1 solution, 30 countries, countless stakeholders
We delivered the online platform, offering customers an accessible and functional portal offering them 24/7 business support while enabling them to manage their risk and enabling them to trade. 
8.5k
Unique visitors per day
£70m
Payments per year
23
Languages supported
"We chose to work with GW because we wanted to work closely with a company we could trust"
Robin Burge
Senior Manager @ Atradius
---
Want to find out more?
Chat to Mark:
mark.s@griffiths-waite.co.uk
+44 (0)121 643 4300